BullBuilder Player of the Month for May 2021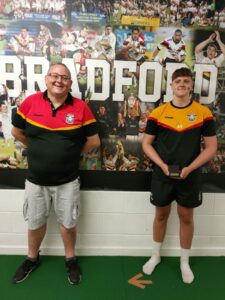 BullBuilder Player of the Month for May 2021 is Jaden Barraclough
Leigh Beattie (Head of Youth) said:
"Jaden is fully deserving of the Player of the Month award.
He's not only been consistent in games both offensively and defensively, but he's now starting to show strong leadership abilities too.
He is a very tough defender who  works extremely hard to better himself in every aspect of his game, he consistently trains to the best of is ability and with Jaden's work ethic, I am sure there will be more awards in the future."
Jaden was presented with his medal by Jason Taylor (BullBuilder Board Member)
Want to support the development of young players at the Bulls join BullBuilder https://membermojo.co.uk/bullbuilder/joinus or if you wish to make a donation http://www.bullbuilder.co.uk/donations/ BullBuilder (Bradford Bulls Supporters Trust) is the Club's independent supporters trust, focused on attracting, developing and retaining young talent in the Bradford Bulls Academy. BullBuilder is an Industrial and Provident Society, and is registered with the Financial Conduct Authority (FCA) as Bradford Rugby League Supporters Society Limited.