Camcorder donation makes juniors the stars of the show
Once again, BullBuilder, the Bradford Bulls' supporters' trust, has contributed a valuable piece of equipment to enable coaching staff at the club to work ever more efficiently.
Head of Youth John Bastian requested a camcorder to enable the recording of young players in training, to allow the coaching staff to illustrate points for the players to work on and develop as they go through the season – and BullBuilder board member Jen Bennison was able to help him.
John Bastian said, "We're very pleased with the group of young players we've assembled this year. Matt Diskin is working closely with them and giving expert advice. The effect is plain to see, as they have grown in stature with every game. No matter how good the coaching, though, being able to see in action the points that the coach is making, will bring the message home so much more clearly. Being able to record and play back their performances will be an invaluable advantage as we continue to develop the current and future squads."
"It's a good feeling to be able to contribute directly to the club in this way, as a supporter and a member of BullBuilder," said Jen, who has been a BullBuilder board member for the past year. "John came to us requesting a camcorder, and I had a recent model that I was unlikely to use, so it made sense to donate it to the good of the club. I donated the camcorder in memory of my late husband, Mick, who bought it but never had a chance to use it, and who was a Bulls fanatic. I know it will be used effectively by our coaching staff to develop young players – and that's what BullBuilder is all about!"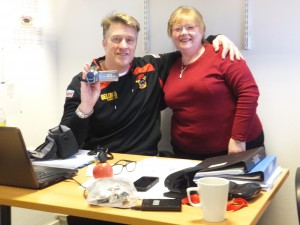 BullBuilder has recently funded a number of donations from funds raised through events and membership subscriptions. The Trust has provided a trailer for the transportation of training ground maintenance, and a printer for the exclusive use of the junior squads' coaching teams, as well as funding team building events.
Chairman Mike Farren said, "These extras make all the difference, not only to the development of young players, but also to the recruitment and retention of future squads. Knowing that the fans are behind them and contributing to their future success makes these players feel part of the Bulls' 'family'".
You can be a part of it too, by joining or re-joining BullBuilder. Just visit our website at http://www.bullbuilder.co.uk/join/, or contact us at Bradford Rugby League Supporters Society Ltd, Suite 2 Buttershaw Works, Buttershaw Lane, Bradford, BD6 2DD.