BullBuilder help Academy reach "cutting edge" of coaching!
BullBuilder has collaborated with the Bulls Foundation to purchase two Apple Ipads and a MacBook.
We recently caught up with Head of Youth John Bastian to find out how this equipment paid for with member's contributions is helping Academy staff.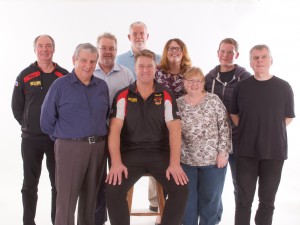 John Bastian said: "Teaching skills is the biggest challenge to a coach.  You have got to break it down. You begin by giving a smart explanation of a skill then get players to practice it.  You then put the player under pressure then hopefully you see the rewards on gameday.   It's not like the old days when the basics could be taken for granted or you picked them up from watching games on TV or live.   You need to teach them in detail and practice them repeatedly.   The equipment donated by BullBuilder is a fantastic aid for doing that."
Two Ipads have been provided – one for U16s one for U19s and are used for recording clips of training drills that can highlight individual skills.    The equipment allows coaches to play back footage to players and conduct short analysis with each individual for immediate feedback.
John added:  "During a drill a coach can pull a player across and in 30 seconds he can be shown where he's going wrong and then immediately go back out and put into practice what he's learnt.   It allows both coach and player to get more out of session."
John went on: "The Macbook is very useful as one is able to drop information on it such as whole games from U16s and U19s.   We also intend to use it for other games from amateur games we visit.   It allows us to analyse games in detail and Matt and Leigh spend many hours doing that.  You can use recordings from a statistical or qualitative point of view.  You can look at examples of good players and extenuate positives to illustrate something so that players can learn more.
Now we have this equipment coaches can use to use it in ways to communicate to players so they understand and improve.  This equipment is a massive aid we are able to teach a skill, get players to practice, break it down, practice again and feedback.  The process follows a cycle."
"During the two close games in the World Club Challenge it was basic skills that cost the British clubs wins. The fundamentals, grip, catch and pass and quality of pass – they're so important. It's why we need to practice at length.  The more information we can give players through analysis the better hopefully they'll become. Other clubs do it and England academy. Now, thanks to BullBuilder the Bulls Academy are too."
Chairman Mike Farren said, "We can see here how the financial donations made by members to BullBuilder have a real 'end product' on the field."
You can be a part of it too, by joining or re-joining BullBuilder. Just visiting our website at http://www.bullbuilder.co.uk/join/, or contact us at Bradford Rugby League Supporters Society Ltd, Suite 2 Buttershaw Works, Buttershaw Lane, Bradford, BD6 2DD.