The Dewsbury Dawdle… March with Marc
Put on your walking shoes and help the Bradford Bulls Academy
BullBuilder are looking for a legion of 100+ fans to join club chairman Marc Green and CEO Robbie Hunter-Paul in a Sponsored walk to the Bulls' away game at Dewsbury on Sunday April 10th.
BullBuilder are committed to our goals of enhancing the work of the Academy and Scholarship at the Bradford Bulls. The funds raised from this event are to contribute toward the redevelopment of the Academy changing rooms at Odsal, to make them a fit and proper place for our young talent to prepare to represent us.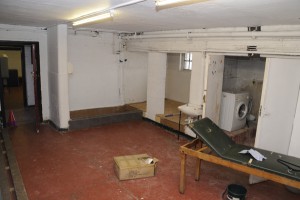 Current state of the changing rooms
The walk is a 10.5 mile stroll, mostly down the traffic free Greenway with a couple of miles of road walking to the Rams' Stadium. We will be leaving Odsal at 9.30am to arrive at the ground in plenty of time for kick-off with refreshment stations / checkpoints along the way and marshals at major road crossings. Transport back to Odsal will be arranged for those who need it.
To put your best foot forward and join in the fun with Marc, Robbie and the rest of us, e-mail the event organiser at david@dlpbradford.com and we will send you your registration and sponsor forms.
All walkers need to be registered by March 31st with a suggested donation of £10 to get the ball rolling and to help with transport, refreshments and other organisation costs.
Please join us and help to give our young players facilities to be proud of.
To join BullBuilder visit our website at http://www.bullbuilder.co.uk/join/, or contact us at Bradford Rugby League Supporters Society Ltd, Suite 2 Buttershaw Works, Buttershaw Lane, Bradford, BD6 2DD.