Trailer to Carry Young Bulls to Future Success
BullBuilder, the Bradford Bulls Supporters Trust met with Bulls Academy coach Richard Tunningley and Assistant Mark Robinson at the beginning of the month to discuss how they can provide further help to the Academy. New board members Jen Bennison and Natalie Farr had a tour of existing facilities and it was agreed that BullBuilder would work to raise funds to buy an equipment trailer so that groundstaff could maintain pitches at the Tong training facility.
Bullbuilder chairman Mike Farren explained "Currently the ground staff at Tong don't have a trailer to transport equipment to ensure that the pitches the academy train on are always in the required condition. Obviously this has a big impact if pitches are unplayable as it means alternative pitches in other parts of the city have to be found, often at late notice and at some expense. With this contribution from BullBuilder the academy will have greater certainty of where they will train and continue to be able to use the excellent facilities at Tong."
The Tong Training centre is seen as a big factor in attracting young players to the club as it combines pitches, gymnasium, physiotherapy and education facilities in one place that is easy to access from the motorway. As Natalie and Jen discovered it is a comprehensive and modern facility that is the envy of many other clubs. Natalie Farr said "We were all very impressed with the facilities and attention to detail shown by the Bulls staff at Tong. Nothing is left to chance and young players at the club really benefit from these facilities and the services provided to them."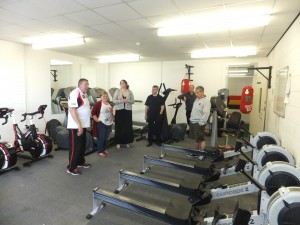 Jen Bennison commented "I was heartened to see what is in place for young players at the club. As well as the training facilities the club put player education and welfare high on their list of priorities. This shows a real commitment that should continue to attract the best young players to the club in the future."
BullBuilder plan to arrange opportunities for members to see the facilities at Tong for themselves with guided tours from Bulls staff. Mike Farren said "Richard Tunningley is keen to allow BullBuilder members to have a look at the facilities and see where their money is spent. This is an excellent opportunity for members to see our work "in the flesh" and we'll be publicising details of how we will do this shortly."
Mike Farren concluded "The club are rightly proud of the Tong facilities and we are pleased to be able to help make them even better. We have a number of ideas for further events aimed at raising money to assist the Academy and young players at the club. Our first event of the year is a Race Night at Odsal on Wednesday 2 July at 7pm which includes a buffet provided by the award winning Deeva restaurant."
Tickets cost £5, and can be obtained from the Bradford Bulls' ticket office, or by emailing info@perfomancedg.com.
Fans need not be members to attend, but can join or re-join BullBuilder by visiting the website at http://www.bullbuilder.co.uk/. For more information, Email BullBuilder at info@bullbuilder.co.uk or write to Bradford Rugby League Supporters Society Ltd, Suite 2 Buttershaw Works, Buttershaw Lane, Bradford, BD6 2DD.