Christmas team-building for the Bulls' Academy – courtesy of BullBuilder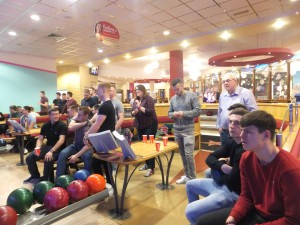 As preparations for the 2015 season continue, BullBuilder – the Bradford Bulls' Supporters' Trust – brought the Academy squad together for team building session, just in time for Christmas.
A night of ten-pin bowling, followed by a meal together was great fun for all involved, but the importance went far beyond that! As the Bulls' Under-19 coach, Matt Diskin, put it, "The event hosted by BullBuilder was a great opportunity for our young academy players to get to know each other a little better away from the rigours of the training field; it achieved this tenfold. It was a fantastic night which allowed the players to interact with members of the Bull Builder board and understand what and how the Trust assists with the development of the club's youth players. On behalf of the squad I would like to thank Bull Builder for the great company they provided and team building they helped us achieve."
Members of the BullBuilder board were also present, and the players invited board members and coaching staff onto their teams and struck up a rapport as the evening went on.
Under-19 player Mikey Paul said, "The whole ethos has changed since Matt and co. took over. We only normally see each other in training, but socialising means we can bond as a team and it sets a great platform for the 2015 season." Recent recruit Caanan Smithies was also delighted, stating that, "Being involved in events like this, when I'm so new to the club, will assist me to integrate into the team quicker, as you introduce new aspects of your personality in a social setting and learn more about each other."
The bowling itself was a very close run thing. Mathew Stableford had lead until the seventh frame, when Ethan Ryan took the lead to secure the trophy. Ethan said, "It was great to win! It's important we participate in activities like this outside of the training room and we are all grateful to BullBuilder for enabling activities like this to happen."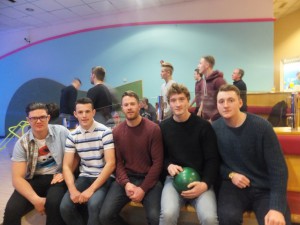 Before leaving for the evening the lads went round all board members to thank BullBuilder and all its members.
Board member Roy Dawson said, "It was great to meet the academy players in the less formal setting offered by this event. Seeing how well the young men interacted with others demonstrated just how much respect they have for each other, their coaching staff the general public. I was impressed with how this group of young men came across as very able ambassadors of Bradford Bulls and the sport of Rugby League in general. Building a successful team in any organisation is vital to its success."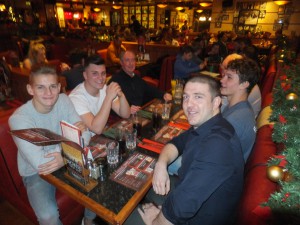 BullBuilder recently announced that its AGM will take place on Wednesday 28 January 2015 at 7:30pm. The venue will be Cue Gardens, Pearson Road, Bradford BD6 1BJ. If you want to take part in the AGM, or just be part of the Trust, as it raises funds to make events like this one possible and to help shape the future of the club, you can join or re-join BullBuilder by visiting our website at http://www.BullBuilder.co.uk/. For more information, please Email us at info@BullBuilder.co.uk or write to us at Bradford Rugby League Supporters Society Ltd, Suite 2 Buttershaw Works, Buttershaw Lane, Bradford, BD6 2DD.