BullBuilder's Summertime Dinner in the Park Hailed a Great Success
BullBuilder's Summertime Dinner in the Park was a massive success at Bradford's Pavilion Café last week, raising a four figure sum and giving fans the chance to mingle with big names from the club's illustrious history. The Bradford Bulls' Supporters' Trust, attracted star players from the Bulls' and Northern's past, such as Deryck Fox, Phil Hepworth, Leon Pryce and Robbie Hunter-Paul, not to mention honorary BullBuilder President, Henry Paul.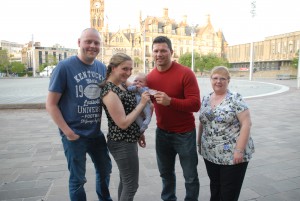 The dinner itself, a delicious buffet with a mixture of Mediterranean, English and Indian food, was attended by over 50 fans alongside the ex-player, while an auction of memorabilia, conducted by Simon Foster, son of the legendary Trevor, helped raise invaluable funds that will go to support young players at the club.
BullBuilder's Michael Barker, who organised the event, said, "It's great to see Bulls fans getting together in support of their team, in the heart of the club's home city. The greats who attended tonight are a reminder of the great history of the club, and it's wonderful to see the enthusiasm they have for building the future, through the development of the academy."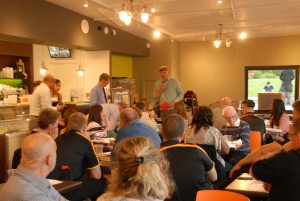 BullBuilder Chairman, Sam Grundy, picked up on this, saying, "Tonight was positive in so many ways, and we're really pleased with how much people have enjoyed themselves and how much we have been able to raise. This, though, is only the start. We are constantly being challenged by John Bastian to raise funds to support the all-important extras for young players at the club. He currently has a piece of equipment in mind, aimed specifically at young players. The funds we raised tonight will go toward this, but we need to make an equally great success of our next event."
This next event will be one of BullBuilder's hugely popular race nights, to be held at the Northern Pub in Halifax Road on Wednesday, 15 July. Sam Grundy said, "Our last race night was great fun and a great fund-raising success. We had a crowd of well over 100, so it would be a good idea to reserve your place early!" Tickets are £5, and you can buy them from the club's ticket office, from The Northern Pub or by contacting us, using the addresses below.
You can join or re-join BullBuilder by visiting our website at http://www.bullbuilder.co.uk/join/. For more information, please Email us at info@bullbuilder.co.uk or write to us at Bradford Rugby League Supporters Society Ltd, Suite 2 Buttershaw Works, Buttershaw Lane, Bradford, BD6 2DD.