Bulls Fan Judith Knits for Academy Success
The game versus Doncaster was one to remember for Bulls fan and BullBuilder member Judith Boyes, as she was pitch-side to present the latest Under 19 player of the month award at halftime. This, though, is just the latest example of how she's got involved with helping the club.
Judith, a fan since the late 1950s said "I went to my first game in the late 1950s as a young girl and would come on my bike with my late sister Mary. Even though the team struggled a bit I much preferred rugby league to football.   I saw the team regularly up until they folded and some games after they reformed but by then had a family to bring up so lost touch."
"I started to come back regularly in 2013 and remember coming back to Odsal and the site of the stadium on match day made me go 'Wow!' I've been a regular ever since."
Judith has raised over £500 for BullBuilder and the Bulls Foundation thanks to monies raised thanks to her knitting talents making and selling Bulls themed knitted items from hats to outfits for Bulls teddies.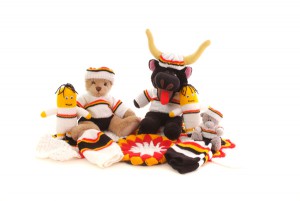 "It all began when a lady sitting behind me in the stand commented on the knitted hat I was wearing. It was homemade rather than from the shop and before long lots of people were asking for me to knit them hats. I didn't charge them much and I made sure proceeds went to the Bulls Foundation at first since I wanted to help the club."
"When BullBuilder started up again in 2014 I thought they were a good group to donate to since they make sure the money they raise goes to helping the young players in the academy.
"I have quite a production line at home and am looking at doing some new designs this year – it's a challenge to keep up with demand so I have to keep orders to something manageable. I just like to be able to help the club."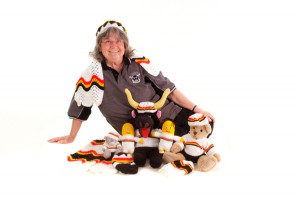 "The whole day was great! I had my photo taken with Big Les and another with my favourite player Cloughie! And to crown it all London beating Leigh!"
You can be a part of helping the Academy too, by joining or re-joining BullBuilder. Just visiting our website at http://www.bullbuilder.co.uk/join/, or contact us at Bradford Rugby League Supporters Society Ltd, Suite 2 Buttershaw Works, Buttershaw Lane, Bradford, BD6 2DD.