BullBuilder/Bulls July Player of the Month – Myles Lawford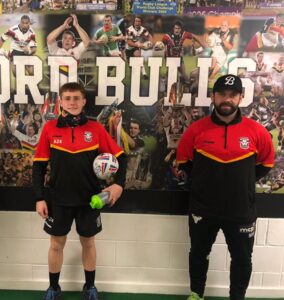 BullBuilder/Bulls July Player of the Month – Myles Lawford
Myles Lawford has been presented with his award of an Amazon voucher and a ball signed by the first team for Player of the Month for July. Picture attached of Myles with Academy Coach Mick Piper.
Quote from Leigh Beattie (Head of Youth)
"Considering his age, Myles has shown a level of maturity far beyond his years. He's slowly becoming one of our leaders and someone who the rest of the team look up too.
He's been working hard in training and it's beginning to show on game day.
We're very pleased with Myles' development and we congratulate him on his BullBuilder award".
BullBuilder have organised its first event of the year.
A Night at the Races in the AJJB Law Stand at Odsal on 30th September, first race will be at 7:30pm.
Tickets can be purchased from the club shop or online on the link below. Tickets are £5 each and include a Pie and Pea Supper
https://bullbuilder.nuwebgroup.com/events/6087
We hope you can all join us for a fun evening to help raise money for youth development