Dominic gets "Déjà vu" for BullBuilder
BullBuilder member Dominic Barker got a severe case of "déjà vu" at this weekend's game versus Sheffield Eagles where he handed over the BullBuilder Under19 Player of the Month award to promising young hooker James Bentley.
It was 18 years ago to the week that a 10 year old Dominic was mascot at the Bulls versus Sheffield game, the week before the Bulls took on St Helens in the Cup final at Wembley.
Dominic said "I remember being mascot that day and sitting next to Robbie Paul on the substitutes' bench.   I was fairly new to the Bulls but being so close to the team and being a mascot made me a Bulls fan for life.   It was great to be pitchside again on Sunday and by coincidence it was against Sheffield again."
18 years later Dominic is now a fully-fledged member of BullBuilder, the Bulls Supporters Trust, who support the Academy Team by providing the "extras" the club is unable to fund. BullBuilder provide a "Player of the Month" medal to the outstanding Under 19 year old player as nominated by U19 Academy coach Matt Diskin.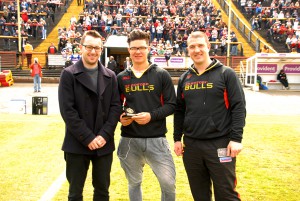 BullBuilder spokesman Sam Grundy said "Dominic has gone from being a star struck young fan to a committed supporter who is prepared to give a bit extra to help young players coming through the club youth system.   We're always keen to give our members opportunities like this to thank them for their support."
Head of Youth Development John Bastian said "We'd like to thank Dominic and all BullBuilder members for their continued financial support. It really does make a difference and we've already put funds to good use this season."
BullBuilder are hosting a "Dinnertime in the Park" Event on Wednesday 3rd June when BullBuilder, they host a dinner, auction and raffle at the Pavilion Café in City Park, Centenary Square in Bradford. The event begins at 7pm is £20 per person, with £10 of each ticket going to BullBuilder. Tickets are available from the Bulls ticket office (cash only) or Pavilion Café reception or email info@performancedg.com or ring 07958 728490.
You can be a part of helping the Academy too, by joining or re-joining BullBuilder. Just visiting our website at http://www.bullbuilder.co.uk/join/, or contact us at Bradford Rugby League Supporters Society Ltd, Suite 2 Buttershaw Works, Buttershaw Lane, Bradford, BD6 2DD.