Last night BullBuilder presented 3 awards for 2021 at our Not just a Quiz night at Odsal Stadium AJJB Law Stand Hospitality & Events Venue
Trevor Foster Unsung Hero Award – Chosen by Leigh Beattie
goes to Sophie Rushworth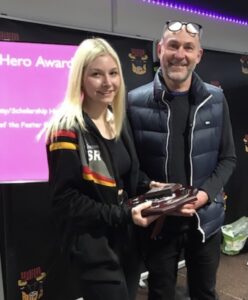 Leigh said "We brought Sophie in at the beginning of last year as a volunteer, times were tough with the pandemic, the amount of paperwork, policies and constant changes of the rules put pressure on everyone, all this was on top of injury prevention and treatment. Sophie's commitment and the hours she worked was humbling. Sophie's work ethic is second to none, which has led to Sophie being appointed now as lead academy sport therapist. This award is fully deserved."
Paul Fisher Outstanding Achievement Award  – Chosen by Leigh Beattie
awarded to Paul Butterworth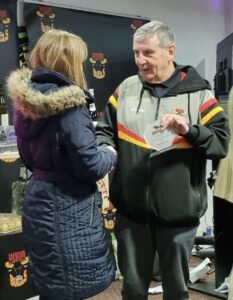 Leigh said "Ever since I can remember Paul has been at the front of BullBuilder, you could give this award to every member of BullBuilder for their exceptional work in raising funds for both the academy and scholarship and all their support, not only as the funds raised paid for essential equipment, from the gym to IT to team bonding events and trips away and many more things to name. They have also been right at the front in the support of staff and player's well-being, Paul has been really supportive and the main go to for the Heads of Youth over the years when the club was going through some difficult times and has continued to drive BullBuilder forward with the help of all members. The job Paul and his team do is unbelievable and greatly appreciated by all academy, scholarship players and staff. This award is fully deserved Thank you."
Academic Achievement Award – Chosen by Michael Piper
the winner – Max Hassan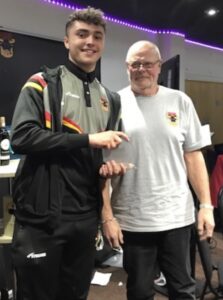 Michael said "Max is not only a fantastic rugby player, but more importantly he's a great bloke and a credit to his family.
I first met Max when he walked through the doors at Tong, aged 14. He instantly stood out, it helped being over 6 foot tall but he had impeccable manners.
Over the last few years he's worked extremely hard, gaining not only an academy contract but also a full scholarship to prestigious rugby school, Woodhouse Grove.
Max 1 million percent deserves this award and I couldn't be happier for him. Congratulations mate."
Congratulations to all our winners and thank you to everyone who attended the event last night.
We managed to raise over £500 to support the goals of BullBuilder whilst having a fun evening.