Bulls "Greats" line up for BullBuilder Event
Bulls fans will get a unique chance to meet three decades worth of club halfbacks at the BullBuilder Dinnertime in the Park event on Wednesday 3rd June. The club's ex-players association put its weight behind the event after being contacted by BullBuilder, the Bulls' official supporter's trust, who provide extra funding for the club's academy teams.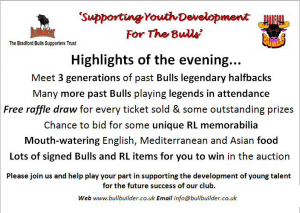 Event organiser Michael Barker said "It's great to have the backing of the ex-players association and we are expecting Deryck Fox, Andy Robinson and Robbie Hunter-Paul to be at the event along with a number of other great ex-players. There will be an auction featuring some really top quality items plus a free prize draw and raffle. Whether people want to bid for things or not it will be a fun event with top quality food and drink all included."
Also in attendance will be Bulls Head of Youth John Bastian and Under 19s' coach Matt Diskin plus several of the club's top academy players.    BullBuilder's aim is to provide financial assistance to the club's academy teams on top of what is provided by the club to give the players. Past contributions have taken the form of floodlighting, gym equipment, IT equipment and outward bound courses with the RAF.
John Bastian said "This is shaping up to be a superb event and we're very grateful to BullBuilder and its members for their continued support. Their contribution has been invaluable in developing our young players, some of whom will go on to become first teamers in years to come."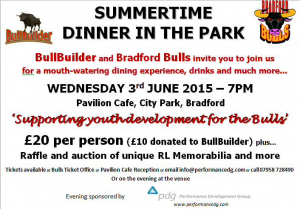 The event takes place at the Pavilion Café in Centenary Square at 7pm on 3rd June. Tickets are £20 per person, with £10 of each ticket going to BullBuilder. Tickets are available from the Bulls ticket office (cash only) or Pavilion Café reception or email info@performancedg.com or ring 07958 728490.