Bulls Fan Shows Commitment "To the Max!"
Bradford Bulls can probably claim to have the fan that's travelled the furthest to attend this weekend's Summer Bash in Blackpool. Maxwell Green, a Bulls fan for over 20 years has come all the way from Mount Pleasant in the Falkland Islands, over  8000 miles away in the South Atlantic.
Max said "Given where I live, getting to games is tough, but I go to as many as I can. I thought the Summer Bash was a good event to come up for. I'll be cheering on the Bulls versus Halifax, and I can't wait."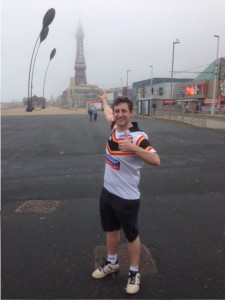 Max's father Paul will also be there and he explained that distance is no barrier to his commitment to the Bulls cause. Paul said "Max is a really committed supporter. He's also, like me, a member of BullBuilder, the Bulls official supporter's trust, who provide funding for the Bulls Academy Team for those extras over and above what the club provide. He's sold Golden Gamble tickets before home games too and is a really passionate fan."
Max said "I just like to do my bit for the club I love. I'd urge others to get involved with BullBuilder if they can as it's a great way to support the club.    We've had some tough times in recent years but now we're on the up again."
BullBuilder are hosting a Dinnertime in the Park event at 7pm on Wednesday June 3rd which will feature an auction and raffle accompanied by food and drinks at the Pavilion Café in Centenary Square. A number of ex-Bulls and Northern players will be there.  Tickets are £20 per person, with £10 of each ticket going to BullBuilder. Tickets are available from the Bulls ticket office (cash only) or Pavilion Café reception or email info@performancedg.com or ring 07958 728490.