Liam Kirk receives second BullBuilder player of the month
BullBuilder, the Bradford Bulls' Supporters' Trust, made their player of the month award for March at half-time during the home match against Halifax. It was Liam Kirk, following up his capture of last season's BullBuilder Under-19 Player of the Year award, who was chosen by coach Matt Diskin to be the recipient of the Trust's second monthly medal for 2015.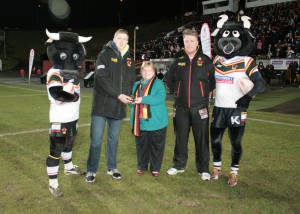 Liam, who is the second forward to be named player of the month after Matty Stableford scooped February's prize, has been playing at prop for Diskin's team in recent matches and has played a key role in some of the highly competitive performances that the Under-19s have been putting in against Super League Academy opposition.
However, the award is not just made on the basis of match day performance, as many other factors are taken into consideration. As John Bastian, the club's Head of Youth, put it, "Liam is not just a good player, but a quality individual. You can rely on him to set a good example in training as well as on the pitch."
The award was presented to Liam by BullBuilder committee member and membership secretary, Jen Bennison. Jen, who is in her second year on the BullBuilder board, has been active in many other ways in supporting junior rugby at the club, having sponsored former Academy star and current first team member Sam Bates. Most recently, Jen donated a camcorder to the Academy in memory of her late husband, Mick.
BullBuilder Chairman, Mike Farren, said, "We at BullBuilder feel this is an important award in showing the Under-19s that their efforts are appreciated and will be rewarded. Just as important is showing that the fans are behind the lads and behind the development of young players at the club. I was privileged to present the first award and now Jen has presented the second, but we're hoping to get BullBuilder members – not just the usual suspects from the committee – to present the award in future. If you are a BullBuilder member, or are thinking of becoming one, and would like to present the Under-19 Player of the Month medal on the pitch at Odsal, please get in touch!"
If you want to get involved and help shape the future of the club, you can join or re-join BullBuilder by visiting our website at http://www.bullbuilder.co.uk/join/. For more information, please Email us at info@bullbuilder.co.uk or write to us at Bradford Rugby League Supporters Society Ltd, Suite 2 Buttershaw Works, Buttershaw Lane, Bradford, BD6 2DD.