BENTLEY SHINES AS STUDENT OF THE YEAR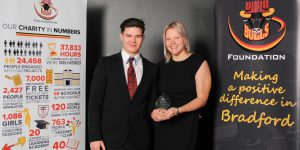 BRADFORD Bulls rising star James Bentley was awarded the Student of the Year at the Bulls Foundation awards.
The highly rated forward, who signed a first team contract at the end of the 2016 season, completed the advanced apprenticeship in sporting excellence with the academy and Loughborough College over the past two years.
Bentley achieved a highly commendable pass for his Level 3 NVQ in Excellence in Sport and also obtained a Level 3 BTEC diploma in sport for performance and excellence.
After collecting his qualifications, the youngster now has the chance to go to university but for 2017 he will be ripping into action with the first team.
"The course at the club with Loughborough College was really good to do. It connected with the rugby on the field, as well as off it with my nutrition and media, which I did a lot of," explained Bentley, sponsored by Aim to Learn.
"Now, I've got enough UCAS points so I can go and study at university if I wanted to go and do a course in sport media or sport and exercise science. The course has given me the opportunity after my playing career to go down a different avenue in the sport business."
"James was a mature student and proved himself to be self-motivated with a desire to improve knowledge of his chosen subjects," said Anna Kemp, Loughborough College tutor.
"Along with trying to relate and implement that knowledge where possible into his rugby which recently became evident with the offer of a first team contract with the Bradford Bulls.
"James was an excellent student and a fantastic role model for the rest of his group and is and asset to the Bradford Bulls and Loughborough College."