BULLS V SAINTS To Support Reagan!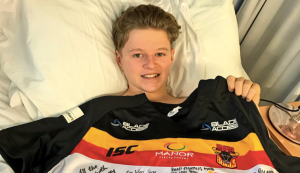 Bradford Bulls supporters trust BullBuilder are to team up with the Bulls Foundation, Bradford Bulls Lottery and the St Helens Foundation to raise funds for injured Bulls Scholar Reagan Tolson after his recent accident.
To support Reagans recovery let's have a bit of fun between supporters who have memories of fantastic games between the Bradford Bulls and St Helens.
We are encouraging supporters of Rugby League to participate in an online Ebay auction for signed team balls to raise funds for Reagan.
The team ball which raises the most funds will be the winner!
Bradford Bulls Signed Ball ebay.eu/2gCqh8F
St Helens Signed Ball ebay.eu/2ho2k4w
Supporters are also able to bid for a signed Bradford Bulls shirt kindly donated by the Bradford Bulls Lottery department.
Bradford Bulls Signed shirt ebay.eu/2hhQ311
For people who are unable to participate in the auctions, but would still like to contribute you can do so by following the Just Giving link www.justgiving.com/campaigns/charity/bradfordbulls/reagansrecovery
Reagan 15, suffered multiple injuries and spent more than 10 hours in theatre, suffering a broken ankle, hand, elbow, shoulder and collarbone, a badly bruised lung, lacerated spleen, his pelvis snapped causing internal bleeding.
Despite the seriousness of his injuries, doctors expect Reagan to make a full recovery and to be eventually able to return to rugby, which his brother said is an "absolute miracle".
BullBuilder spokesman Paul Butterworth explained how BullBuilder the Foundations and the Bradford Bulls Lottery are aiming to help Reagan.  "Both Foundations are donating balls signed by the Bulls and Saints first teams. We intend to auction these on Ebay. We're hoping both Bulls and Saints fans get behind the auctions by bidding for their team's ball.  It could be like one of the great battles on the pitch during the early years of Super League to see who raises the most money.  All proceeds will go towards Reagan's recovery."
Reagan Tolson's brother Callum said "I'd like to thank BullBuilder the Bulls and Saints Foundation for helping Reagan in this way.  I know he very much appreciates it".
Bulls Foundation Chief Executive Mark Winder said "As one of the Bulls scholars Reagan is well known to the Foundation and we were shocked to hear about his accident.  We're hoping now to rally round to provide a bit of extra support to aid his recovery."
Saints Foundation spokesman Craig Richards said "When a young player gets life threatening injuries like this it puts things into perspective.  The Saints Foundation is delighted to be able to help Reagan."
Thank you for your support all funds raised through the auction and Just Giving will be donated to support Reagan and his family.