'Trainer of the Month' for January 2021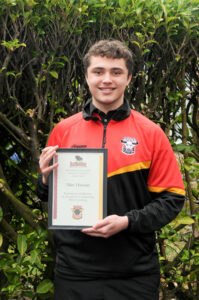 SCHOLARSHIP starlet Max Hassan has been named as the BullBuilder 'Trainer of the Month' for January!
January's lockdown saw our Academy and Scholarship sides reduced to online training with their Strength and Conditioning coaches, Chris Chapman, Chris Honor and Louis Birchall.
The BullBuilder Trainer of the Month award was introduced upon the Academy & Scholarship's return to training in November, rewarding the efforts of the next generation on the training field.
Scholarship head coach Ryan Hunkin has paid tribute to Max's efforts to engage during another difficult period in lockdown.
"I am delighted that Max has been awarded the Trainer of the Month, his engagement and efforts throughout a very challenging time has been exceptional.
"His input into the resilience courses we have been delivering have been first class and we are looking forward to the return to training where we can see Max kick on to become the best he can be."
For more information about BullBuilder and how to join, CLICK HERE.