BullBuilder Links Up with New Head of Youth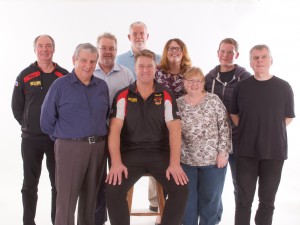 Bradford Bulls Supporters Trust BullBuilder will soon be announcing some major news on upcoming events following a highly productive meeting with new Bulls Head of Youth John Bastian last week.
BullBuilder Chairman Mike Farren said "John came along to our committee meeting last week where we exchanged ideas.    He told us about his coaching philosophy and his plans for the academy and we explained how we had helped the club in the past and how we might continue to do that.    It was very informative and we look forward to having a very productive relationship."
BullBuilder has in the past funded new floodlights, training skins and an outward bound weekend for the academy team and is hoping to work with the club to provide further support above and beyond what the club already provides.
Mike Farren said "We intend to hold an event very soon open to BullBuilder members and non-members who can find out more about what the club is doing to support and develop the academy and how they can play a part by supporting BullBuilder.   Producing and holding onto our own players has never been more important and we see BullBuilder as integral to helping fulfil that aim.
You can join or re-join BullBuilder by visiting our website at http://www.bullbuilder.co.uk/. For more information, please Email us at info@bullbuilder.co.uk or write to us at Bradford Rugby League Supporters Society Ltd, Suite 2 Buttershaw Works, Buttershaw Lane, Bradford, BD6 2DD.