Bulls' Academy ranked among the best
Most supporters will understandably look at the league table as an indicator of the standing of the Bulls. To see the club so close to the bottom of Super League, with relegation now a fact, gloom has been pervasive. However, there is one very positive league table in which the Bulls stand near the top. The assessment recently released by the RFL rated the Bulls' Academy as 'good' – a ranking only bettered by St.Helens and today's visitors, Wigan.
If it seems like clutching at straws to seize on this report, the fact is that the Academy will assume ever greater importance as the Bulls attempt to regain Super League 1 status.
"While next season's structure offers a pathway back to Super League 1," said BullBuilder chairman Mike Farren, "differences in salary cap between the competing sides will mean that it won't be possible to buy your way back. With the relative cost of young players coupled with salary cap exemptions, the Academy represents our strongest hope of getting the first team back where we want to see it."
The RFL report states that "The club has continued to perform as an academy. This is due to the continued investment in training and playing facilities and the dedication of committed and experienced staff using well proven structures and systems. There is an ethos from the top down, to make sure the clubs academy remains the mainstay of their focus."
We at BullBuilder welcome this commitment, and the fact that, following the report, Steve Ferres commented to us "we still need to raise the bar!"
BullBuilder enables supporters to contribute to the continued excellence of the Academy and the future success of the club. Our efforts have provided equipment, kit and invaluable experience for the Bulls' young players in the past and we are once again going full steam ahead to raise funds to carry on this work.
The Race Night held last month was one example of our work, and it was hailed as a runaway success!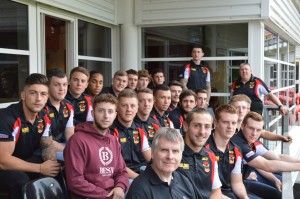 People in attendance included board members, first team players and the entire Under-19 squad. Over 130 people were present, and Marc Green himself commented, "Enjoyed my first ever BullBuilder event. More people should get behind the work they do".
We are looking at more ways in which we can help out, assisted by the fact that we raised over £1,000 through the Race Night due to the generosity of sponsors and those in attendance.
You can join or re-join BullBuilder, or set up a regular subscription by visiting our website at http://www.bullbuilder.co.uk/. For more information, please Email us at info@bullbuilder.co.uk or write to us at Bradford Rugby League Supporters Society Ltd, Suite 2 Buttershaw Works, Buttershaw Lane, Bradford, BD6 2DD.