BullBuilder Race Night a Runaway Success
The Race Night staged by BullBuilder, the Bradford Bulls' Supporters' Trust on Wednesday 2nd July, was hailed by the BullBuilder committee and the fans in attendance as a runaway success!
"Events like these are important for raising funds," said BullBuilder Chairman, Mike Farren, "but it's at least as important for us to bring fans, players and officials together to help them all feel that they belong to the Bulls' family and that they have a role to play in turning around the fortunes of the club."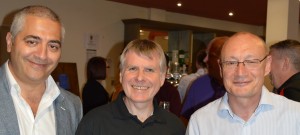 There was certainly a very rich mix of people in attendance, including Bulls board members Marc Green, Steve Ferres and Robbie Hunter-Paul; first team players Nathan Conroy, Adam Henry, Jay Pitts and Adrian Purtell; Academy coach Richard Tunningley and his entire Under-19 squad; and former Bulls' stalwart turned RFL National Player Development Manager, Paul Medley. All told, around 140 people were there to enjoy the fun on the evening.
And what an evening it was! As well as the excitement of the racing, the audience enjoyed a delicious buffet from the award-winning Deeva Restaurant – all included in the bargain price of the £5 entry fee.
"It was a really good night: very professionally organised," said BullBuilder member Mark Beardall. "The food was fantastic value." His sentiments were echoed by the Bulls' chairman Marc Green, who tweeted, "Enjoyed my first ever BullBuilder event. Professionally put together & delivered. More people should get behind the work they do". Likewise, season ticket holder Bob Burton said, "It was a great event. It was good to see so many people here in such a good cause. It will be even better if we could get more next time!"
The good cause is raising money to support the recruitment, retention and development of young players at Bradford Bulls. BullBuilder has a great track record of contributing to his, as can be seen from a visit to our website http://www.bullbuilder.co.uk/, and we are greatly looking forward to working with those Academy players who attended the event – described by BullBuilder Committee Member Les Priestley as "a credit to their parents and to the club" – as well as the forthcoming intake.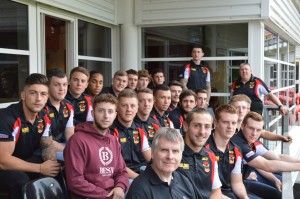 Right now, we are looking at more ways in which we can help out, greatly assisted by the fact that we raised a four figure sum through the Race Night. This was due to the generosity of sponsors and those in attendance, and the BullBuilder committee would like to thank everyone involved, especially Deeva Restaurant for their sponsorship and the quality of their catering, and our other sponsors – ASP Security Design Consultancy, Gamestec, Hamtune Spares, Hope Park Business Centre, Performance Development Group & Seabrook Crisps.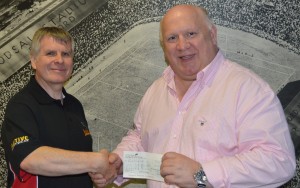 We would also like to thanks BullBuilder members Judith Boyes, whose sale of Bulls-related crafts had already raised £200, to which a further £30 was added on the night, and Karen Sykes for her help during the evening.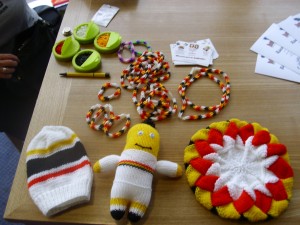 Taken together, everyone's efforts mean that we have all the more power to add those little extras which, along with the Bull's track record in developing quality players and the excellence of the Tong training facility, will be invaluable in attracting and keeping a new generation of junior players, who will be all the more important to the club as it seeks to return to its former glories.
News was also announced on the evening that Paul Medley, who attended the Race Night, had agreed to become a BullBuilder Patron, joining Simon Foster, Mick and Megan Potter and Duncan Preston, who had already endorsed the work being done by BullBuilder to support young players at the club.
"As well as being one of the Bulls' playing greats," said Farren, "Paul was a crucial part of the youth set-up at the club for many years. He helped shape several generations of Bulls products and was massively supportive of BullBuilder in our time working together. It's a real boost to have his continued support now!"
You can join or re-join BullBuilder, and enjoy even more of these fun events by visiting our website at http://www.bullbuilder.co.uk/. For more information, please Email us at info@bullbuilder.co.uk or write to us at Bradford Rugby League Supporters Society Ltd, Suite 2 Buttershaw Works, Buttershaw Lane, Bradford, BD6 2DD.