U19s Compete for BullBuilder Award
The BullBuilder Rookie of the year award goes to the outstanding member of the U19 team and the race to be the 2015 winner is hotting up. The supporters trust recognises the performances of U19 players each month too with players picking up a medal as reward for being the stand out player of the month.
Last year Liam Kirk took home the Rookie of the Year trophy and Most Improved Player award after some commanding displays in the pack. The former Drighlington ARLFC player has carried on where he left off and was made March player of the month. The tall prop will be hoping to maintain that kind of form.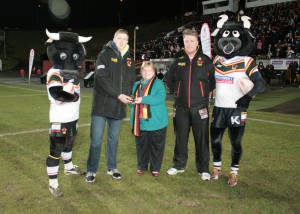 Inaugural winner Matty Stableford won the February award after some strong games in the forwards. The former Rhino has been part of a strong backrow when playing alongside April winner James Bentley who has excelled off the bench.
Goal kicking stand off or fullback Brandon Pickersgill picked up the May award after some eye catching performances. As the only back to have won the monthly award so far he'll be looking to stand out even more as the season comes to its conclusion.
BullBuilder chairman Sam Grundy said "We think it's important to reward young players when they perform well and it's nice to give them some recognition in the form of a medal. We liaise closely with U19 coach Matt Diskin to make sure the winners are correctly chosen. Hopefully the monthly awards serve as a motivation to the players, we all want to see them progress into the first team following in the footsteps of Adam O'Brien, Tom Olbison and Alex Mellor.
Head of Youth John Bastian said "It's important to make sure our young players feel valued and get an incentive to improve and having monthly awards does all that. We're grateful to BullBuilder for helping us do this and it's great to be able to hand over these awards at pitchside on gameday."
Meanwhile, we are just over a week away from BullBuilder's Race night at The Northern pub on Halifax Road, on 15 July. Admission is £5 including a hot supper – £2.50 of each ticket goes to BullBuilder. Tickets are available from the Bulls ticket office, behind the bar at the Northern or by visiting https://www.eventbrite.co.uk/e/race-night-tickets-17354102588
Bulls fans wishing find out more can visit the Bullbuilder website at http://www.bullbuilder.co.uk/ or write to Bullbuilder, Bradford Rugby League Supporters Society Ltd, Suite 2 Buttershaw Works, Buttershaw Lane, Bradford, BD6 2DD