A Whole New 'Point' to Under-19 Fixtures
Just like the first team, it will be necessary for our extremely promising Under-19 squad to get to know each other and to gel as a unit. In spite of a couple of league defeats against Super League opposition, there are already plenty of promising signs. In their most recent fixture, a solitary try was the difference between the Bulls and the mighty Wigan, while the previous week, they saw off the Catalan Dragons in a friendly.
As you will be aware, BullBuilder provides extensive support to the junior squads at the Bulls. At the first team's match against Hunslet, we presented the inaugural Under-19 Player of the Month award to Matthew Stableford during the half-time interval. We will also shortly be announcing significant new donations that will help the players and the coaching staff to function even more efficiently and successfully.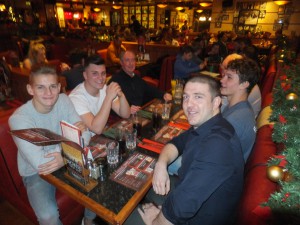 However, in addition to all the equipment and other support that we provide, we're always looking for ways to encourage the club's young players to bigger and better things.
For this reason, we are starting a new scheme, open to BullBuilder members and non-members alike. We would like you to pledge to make a donation to BullBuilder to the tune of 5p per point scored during Academy Championship matches by the Bulls' Under-19 team! As a guideline, in the opening two matches, the Bulls have scored a total of 14 points, and there are 9 more matches to go.
However, this isn't just a sponsorship request: there will be a prize of 25% of the pot for the person whose guess is nearest the mark (if there is a tie, the prize money will be shared).
To register your involvement, please send your name and your guess for how many points will be scored in the 11 league games to info@bullbuilder.co.uk, or write to Bradford Rugby League Supporters Society Ltd, Suite 2 Buttershaw Works, Buttershaw Lane, Bradford, BD6 2DD. You have until the end of March 2015 to register your guess and be eligible for the award. We will keep the total updated on our website http://www.bullbuilder.co.uk/.
We hope this will be a fun way for supporters to feel even more involved with the Under-19 squad's matches, while encouraging the lads to keep rattling up the points, in the knowledge that they the donations they generate will all be used to support junior rugby at the club.
You can join or re-join BullBuilder by visiting our website at http://www.bullbuilder.co.uk/join/.